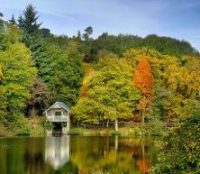 On Sunday 19th August, the Cordle Run will be leading you through pretty Surrey lanes on a scenic tour ending up on the National Trust property of Winkworth Arboretum. As this is fairly close to home we have plotted a circular route, hopefully finding a few lanes we haven't used before, but will still only be about 40 miles, with the advantage of a shorter direct route home. We will also have an 'easy fun quiz' for those who wish to partake, to exercise your brain on the journey.
Created in the early 20th century by Dr Wilfrid Fox, this hillside arboretum has now been maintained by the National Trust for 60 years and has built up an internationally significant collection of more than 1,000 different species of shrubs and trees, many of them rare. Visit any time of year for a stroll through the personal plant collection of one man, who was passionate about plants. The Collection and setting are too unique to ever disappoint. Winkworth is more of a woodland garden than a traditional arboretum, and the design has been called 'a masterpiece of planting'. There are large stands of woodland with winding trails leading past 2 lakes, through richly planted stands of holly, azaleas, and rhododendrons and rare plants seldom seen elsewhere. There are 46 hectares of gardens, set on a sloping hill side, with colour at every time of year. Summer highlights include flowering dogwoods. In autumn the maples come to the fore, with lush displays of reds and golds from American, Japanese, and Norwegian varieties.
There is an adult admission charge of £8 a person for non- National Trust Members, although the Tea rooms are outside for those who don't wish to partake of a stroll through the gardens. Dogs are welcome on a lead.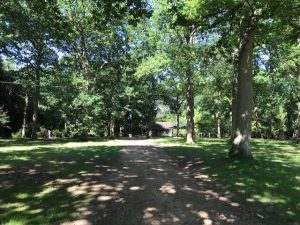 The club has been offered the parking location shown on the left. It is between the public car park and the entrance to the arboretum. We have space to line up the cars on each side to present a guard of honour to visitors and make a lovely display of MG's. The tea rooms are adjacent to our parking spot and outside the gardens with plenty of room for those who wish to partake of the traditional picnic behind the car.
Please note the starting place of the run this year is again at The Pheasant PH on the Reigate Road (A25) at Betchworth. Toilets, coffee and refreshments are available at the pub.  We hope you will be able to join us, cars will be leaving Reigate from 9.30 am onwards.