Rural Life Museum, Farnham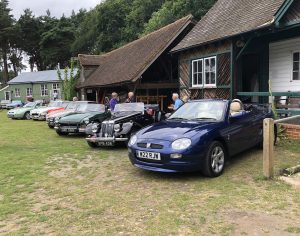 Our planning started a year ago, towards the end of last July when a date of Sunday 14th July was chosen to undertake the Epsom Area SURREY RUN 2019 event with the final destination at the Rural Life Museum in Farnham. This is a venue that we have visited before and always seems to be enjoyed by our participants.  Following all the planning stages, as the event gets closer, my attention always turns to the weather forecast for the day.  I was pleased when the spell of quite reasonable weather leading into July was predicted to continue.
This charity fund raising event is still proving to be very popular, demonstrated by plenty of pre-paid entries and more registering on the day.   As in previous years the start point was once again hosted by Bocketts Farm near Leatherhead in Surrey.  The registration facilities were operational with route instructions and rally plates being handed out by about 8.30 with the first departures an hour later. This left time while at the farm for the possibility of a cooked breakfast or a vital trip to any other facilities that may be required.  Every car had the opportunity of passing under the official start banner before joining the Run.  As clouds cleared and the sun began to break through, this moment was captured by our resident Epsom Area Photographer Kim, who was ready to photograph each car as it set off.   If you have not already ordered a copy of your special photo, then please contact Kim Shrosbree via the Epsom Area web site with your registration number.  For a small sum she can still provide you with a memento of this occasion.
Once again the route was carefully planned by our Route Master, Foggy, and then independently checked prior to publication.  This route was then re run by the "Master" on Friday 12th before our event.  A number of potential road works and closures had been threatened, so we had gone to great lengths to ovoid these.  Just to be safe, Kevin Watson was the first to leave by 8 am on Sunday morning for a final check and reported that all was still well.
The entry fee for the Surrey Run also included admission to the Rural Life Museum. This museum has displays of Rural life in the English countryside since the mid 1800's.  There are over 40 thousand artifacts on display including a number of historic local buildings.    On arrival, our Epsom marshalling team had set up the welcoming arrangements leading to the dedicated MG parking within the Museum complex.  There were some beautiful examples of MG models taking part in the Run this year.  These covered a wide range of ages from early T Types to the very recent MG3 and MG6,   The cars formed an amazing sight displayed between the Museum buildings that included a chapel, village hall ,cricket pavilion, wagon sheds, a gypsy caravan, shepherds hut and many more. Our participants spent a very pleasant afternoon on the 10 acre site gaining a feeling for a time that is now long past.  I was pleased that they were also able to chat to Jonathan Kimber and Holly White the Editor of "Enjoying MG" who were both representing the Owner's Club HQ as they joined us for the day.
At the start of the Run, each driver was given a Prize Draw ticket containing their unique run number to be handed in as they passed the finish post.   When everyone had arrived, Emma Midgley, representing the Rural Life Museum, conducted a selection of winners.   Three tickets were randomly chosen as follows.  David Thomas, entry 139, won First Prize, a voucher for £25.   Richard Daver entry number 163, won Second Prize, a voucher for £15, and Christopher Parker entry number 119, won Third Prize, a voucher for £10.
Once again we have received many favorable comments.  On behalf of the Epsom Area, I would like to thank the MG Owner's Club at HQ for their continued support.  Also to Bocketts Farm and the Rural Life Museum for providing the start and end points of the route We are grateful to Belmont Garage who for the second year have kindly sponsored this event.   My thanks also go to all our friends and MG enthusiasts for their interest and involvement with the Epsom Area MGOC and all those who joined us for this event.  The Epsom Area has always had a commitment to fund raising for local deserving charities.   By taking part in the Surrey Run, you have provided valuable support in helping us achieve our goals for yet another year.   I do hope that you enjoyed the day and I look forward to seeing you all again next July for the SURREY RUN 2020.
Nigel Swann
Epsom Area MGOC Special Events Co-ordinator