Epsom Area MGOC Members can post a car advertisement for free!
Please contact us if you would like to place an advertisement in the next issue of the newsletter and on the website
FOR SALE – 2003 MG TF 135 2003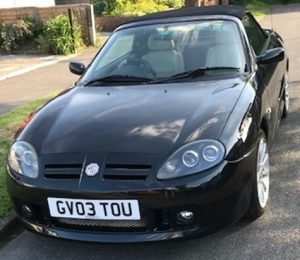 Monogram Black Olive, Champagne Oxford Leather trim. Colour coded hard top and only one of 16 in this colour in the UK.
Mileage 62,275. One careful owner from new. Excellent condition, serviced regularly. MOT October 2021.
It's a unique car as there were only 38 TFs painted in Monogram Black Olive, 20 of these went to Australia, two were exported to Germany and the
remaining 16 were UK cars.
Reluctant sale as one of 4 MGs and garage space is needed.
Price £4,150
Contact Dave on 07510 260235 020 8393 4614
davidgi75@icloud.com gills75@talktalk.net
FOR SALE – Space for MGOC Members to sell cars and other suitable items