Epsom Area MGOC Members can post a car advertisement for free!
Please contact us if you would like to place an advertisement in the next issue of the newsletter and on the website
FOR SALE – 1959 MGA 1600MkI Roadster
Magnificent 1959 MGA 1600MkI Roadster in stunning Old English white with black interior/white seat piping/wire wheels. Complete fastidious nut & bolt rebuild on powder coated chassis to excellent & original standard. Photographic record. No expense spared and supporting receipts file. Unleaded conversion. All electrical and mechanical components rebuilt providing reliable, carefree, classic MG motoring. Present owner 20 years plus (kept in centrally heated garage)
Workshop manual, handbook and other literature included
Price £29,950
Rory 07710905521 or roryjmsmith@btinternet.com
Period MGA Fibreglass Hardtop in Black will also become available
FOR SALE – 2003 MG TF 135 2003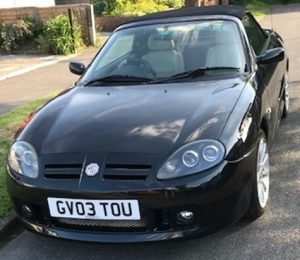 Monogram Black Olive, Champagne Oxford Leather trim. Colour coded hard top and only one of 16 in this colour in the UK.
Mileage 62,275. One careful owner from new. Excellent condition, serviced regularly. MOT October 2021.
It's a unique car as there were only 38 TFs painted in Monogram Black Olive, 20 of these went to Australia, two were exported to Germany and the
remaining 16 were UK cars.
Reluctant sale as one of 4 MGs and garage space is needed.
Price £4,150
Contact Dave on 07510 260235 020 8393 4614
davidgi75@icloud.com gills75@talktalk.net
CANINE PARTNERS STAMP APPEAL
Canine Partners is running an ongoing Stamp Appeal to raise funds for the first year of puppy training (£5000 each). If Members would like to help them achieve their goals, Eric will take any postage stamps and send them to Canine Partners on behalf of Epsom Area MGOC or they can also be sent directly to Canine Partners – you can find more information on their website by clicking here.
FOR SALE – Space for MGOC Members to sell cars and other suitable items