We support a full calendar of events throughout the year
With lunchtime and evening natters, charity events, continental tours, monthly club meetings and the annual Surrey Run, we should have something for just about everyone's taste.  You are welcome to come along and meet some of the like minded members at our many events.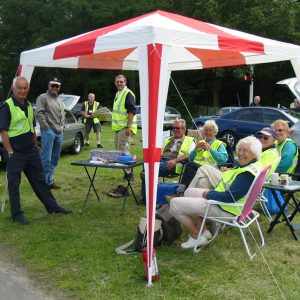 Club Stands
The Epsom Area MG Owners' Club arranges several displays of members' MGs through the summer months, for the benefit of local schools and charities.
To be able to create a good display of cars at all the events it would be helpful if you could let us know as soon as possible which club stand you would like to attend.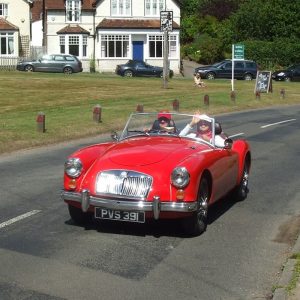 Social Events
Epsom members are very social, there are many events in our calendar to give you the opportunity to meet and get to know other members.
A great way of getting to know other members in a smaller group is to attend one of our Natters.  You can eat with us if you wish or simply come along for a chin-wag.
Details of our forthcoming Social Events and Natters are listed in our diary listing below. Please use the BOOKING FORM to join us for a Natter (at least 2 days in advance) or if you would like more information about a Social Event please CONTACT US.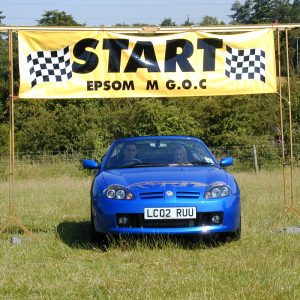 Surrey Run
Our annual club fundraising event which proves very popular!
The Surrey Run takes you on a planned route covering a distance of approximately 60 miles.  Starting at Bocketts Farm in Leatherhead for 'Bacon Sarnies' and a quick chat, we head off on a picturesque drive to finish at a scenic venue for a picnic.
We receive about 200 entries for this event, so early booking is advised to avoid disappointment.
Diary of Events
DECEMBER 2019
Sunday 1st December – From 2.45pm
Light Up a Life: At St Raphael's Hospice, London Road, North Cheam names to Eric Nicholls to assist with parking of cars.
Thursday 5th December – From 7.30pm
Club Night: At Gander Green Lane. Xmas Meeting of Epsom Area MGOC. Mulled Wine and Mince Pies.
Thursday 12th December – From 1.00pm
Lunchtime Natter: at The Water Mill, Reigate Road, Dorking, Surrey, RH14 1NN. Contact Nigel Taylor.
Thursday 19th December – From 7.00pm
Evening Xmas Natter: At The Woolpack, 186 High Street,Banstead, Surrey, KT20 6NE. See Natter Page for detailed information
JANUARY 2020
Thursday 9th January – From 7.30pm
Club Night: at Gander Green Lane. Talk by Selene Signs Limited and report back by Committee on 2019 suggestions.
Saturday 18th January – 6.45pm for 7.15pm
Start Annual Dinner and Dance: at Kingswood Golf and Country Club, Tadworth, Surrey KT20 6NE. Names and money to Paul Coleman by December Club Night or direct by 31st December 2019.
Thursday 23rd January – Meet at 12.30pm
Lunchtime Natter: at The Cock Inn, Church Lane, Headley, Surrey, KT18 6LE. Contact Nigel Taylor
Sunday 26th January – From 9.30am leave by 10.45am
Mothballs Run Epsom MGOC: meet at The Pheasant, at Buckland, Reigate Road, Betchworth, RH3 7BG for a route to The Lamb Inn at Lambs Green RH12 4RG. Full details next month.
MORE FORTHCOMING EVENTS 2020
1st January – Brooklands New Year Gathering of Classic Cars
6th February – Club Night at Gander Green Lane "Valuation Night"
 9th February – MG and Triumph Spares Day at Stoneleigh
 16th February – Annual Treasure Hunt for Epsom MGOC and MGCC SE Centre
 21st – 23rd February – London Classic Car Show at Olympia
 5th March – Club Night at Gander Green Lane TBA
EPSOM SURREY RUN – 12th July 2020
If you would like any further information about any events please 'Contact Us'
All events are undertaken at Members' own risk